As you're hopefully all aware, this coming Monday is the first conference day of this year's Berlin Buzzwords! As most of you should know, we've also got a number of great events on either side of the main event, including some Hackathons and meetups. Our biggest side event though is the Berlin Buzzwords Barcamp, which takes place today!
For some of you, this will be your first Barcamp, and you might be a little aprehensive about what to expect. Before that, some all-important housekeeping information on this Sunday's event...
Where: Postbahnhof Berlin (Entrance: Fritzclub/ Postbahnhof)
Date: May 31, 2015 (the evening before Berlin Buzzwords)
When: 5.00 pm (registration starts 4.30 pm)
Who: Eligible are all attendees of Berlin Buzzwords
Registration: 4:30 pm
Registration: Please register for "Sunday Barcamp and Meetups only"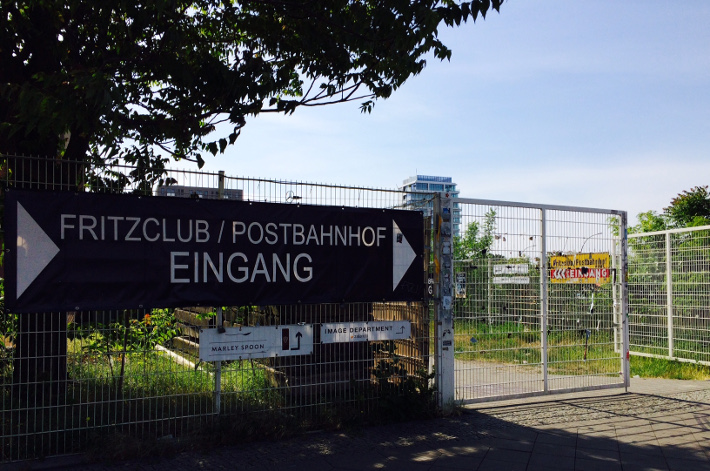 What is a Barcamp though? Barcamps are a kind of "un-conference", where the schedule isn't decided until the day, and is based on those who attend. Everyone is welcome, and everyone can participate in a variety of ways. They're not without structure though! They're dynamic events, focused on the overall Berlin Buzzwords event's topics, tackling the same challenges but in a different format. At the Barcamp, each session will run for 30 minutes, giving enough time to get into the meat of a topic, but without a chance for anyone to get bored... There are participator sessions, with everyone taking part, perhaps by leading the session, perhaps by giving some insights, perhaps by asking some great questions, or perhaps just by encouraging.
Our Barcamp kicks off with registration from 4.30pm, where you can register not only for the Barcamp, but also for the main conference too, letting you skip the queues on Monday morning and instead spend more time enjoying the delicious breakfast. Once we're all there, it's onto the introduction, explaining how we'll work, and reminding everyone of the main themes of the event, which are:
Beyond Hadoop v1: Mesos, Hadoop and Storm
Taking NoSQL into new areas
NoSQL in the real world - what to pick, how to cope when it breaks...
Logging, monitoring and managing at scale
Science in a grid-free Big Data World
ElasticSearch, SOLR and Lucene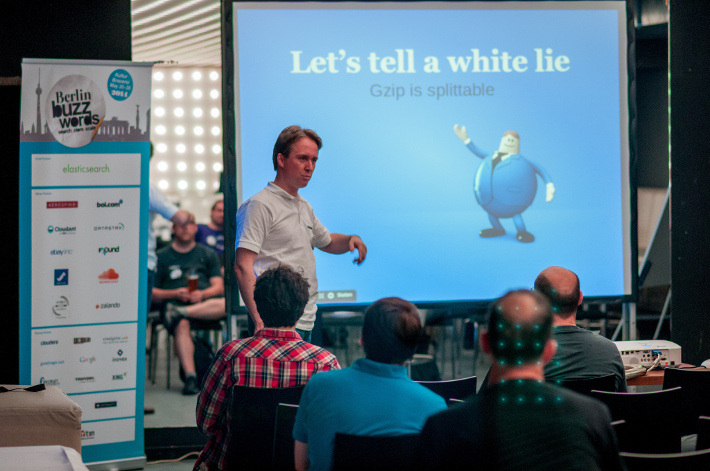 Our sessions vary from beginner to uber-advanced, from developer to scientist to dev-ops to beginner to expert. We try to colour-code our schedule to help you find your right place. We'll be running at least two rooms, maybe more (weather permitting...), to hopefully ensure everyone has something of interest at all times.
The first order or our business is the all-important schedule. We all get together with giant post-it notes, and write down the sessions we want to talk on, along with those we'd wish someone else would cover! Armed with an uber-scientific scheme of shows of hands, we group related sessions, assign rooms, rope-in people to moderate or kick-off sessions, and generally agree which of our themes seem the most interesting for the evening. Once we have an agreement, we have our schedule, and talks can begin!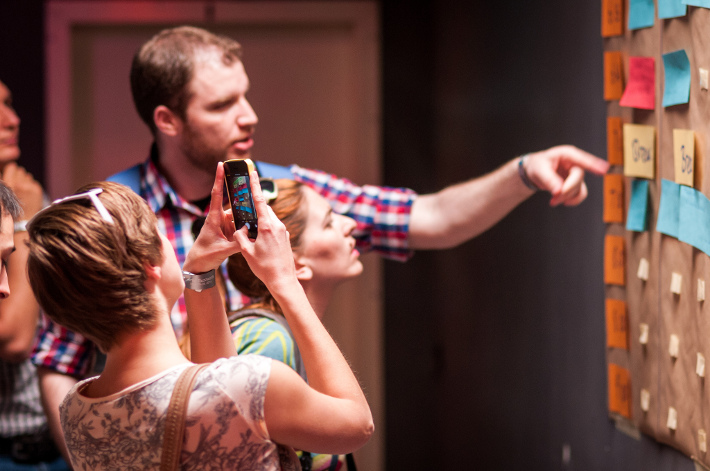 Our Barcamp sessions are deliberately participatory. We don't want a long lecture from one expert here - we've the main conference for that after all! Instead, we want to get groups of interested folks together, and have them share their experiences, their knowledge, their problems and their questions, so we all learn from each other. We start with a session topic and someone to lead it, and see where our interst takes us! Sometimes it's a great new thing, sometimes it's learning how to take an "old-hat" topic and make it work. Sometimes it's highly technical, sometimes it's how to explain it all to the confused business staff with the cheque books... Some sessions will use the projectors to show code, some to show ideas to kick things off, but many will just make it with a flipchart! We can't promise the SQL standards body debating query languages with CouchDB and Cassandra developers this year (sorry!), but with some luck we'll have a few firey sessions as good as that epic 2012 Barcamp delivered. Who knows, maybe in a few years, you'll be able to regale tales of watching a session as great as that one was!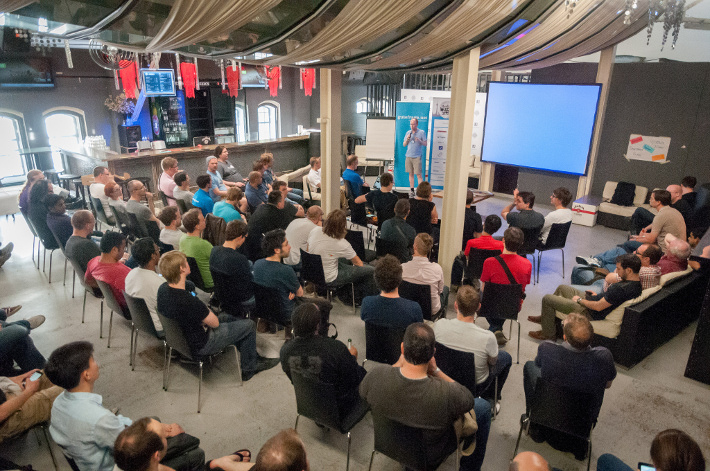 So, this Sunday, make sure you get into Berlin early, and come along to the Barcamp! Bring your thinking cap, bring your problems, your solutions, your ideas, your challenges and your knowledge. We'll have people there new to the whole thing, and people who invented that system so new it doesn't even have install documentation, with everything in between! Curiosity is your friend, and we promise a great evening, or your money back ;-)
For those poor folks who can't make our Barcamp on Sunday, don't forget that on Monday registration opens at 8:30 am, there's breakfast available from 8:30 until 10:00, and our welcome session kicks off at 10:00 am. We'll look forward to seeing you the Postbahnhof then!
Photo: cc-by-sa 2.0 Philipp Kaden