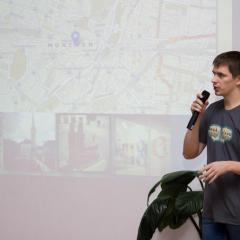 Data scientist at one of the biggest fashion communities, Stylight. Data analysis and visualisation hobbyist, working on problems not only in working time, but in free time for fun and personal data visualisations. 
Ex-deputy director/lecturer at HP International Institute of Technology, Kiev.
Speaker at Berlin Buzzwords 2014, ApacheCon Europe 2014 Founder and speaker at Munich Golang User Group, Munich Tableau User Group. Speaker at Munich Search User Group, Munich UseR Group, Munich Quantified Self Meetup.
​
Videos
Berlin Buzzwords 2014
Berlin Buzzwords 2015
Corporate-Design: Extragestaltung, Margarethe Hausstätter
Ilustration: cyan, Berlin